Orkin
Orkin and NAHLE have partnered to bring you critical data, strategies, workshops, and presentations about pest control as related to hotel engineers.  
Orkin offers our engineers and readers a free pest control audit — learn more.
---
"Fight the Bite" – The Latest on Mosquitoes and Zika Virus Webinar
Brought to you by Orkin in association with NAHLE.
Watch the complete webinar video below.
PRESS PLAY IN BOTTOM LEFT
Download presentation slides: View PDF.
Download webinar video: View MP4.
---
Bed Bug War Webinar – Presented by Orkin and NAHLE
Brought to you by Orkin in association with NAHLE.
Dr. Harrison discusses the war against bed bugs by providing the latest on bed bug monitoring, detection and solutions. As hotels across the country continue to experience high occupancy rates, it's important to ensure you and your staff are prepared so that you can protect your bottom line from bed bugs.  View the "Bed Bug War Webinar" video (MP4), presented in May 2016.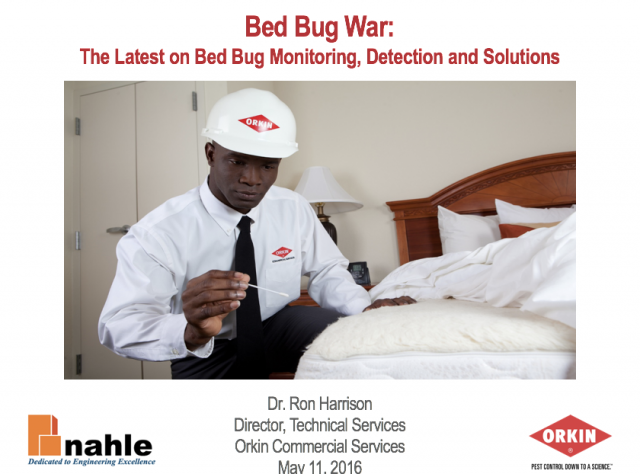 To watch the video, click here: "Bed Bug War" Video (MP4 format).
---
Learn more about Orkin's pest control through our exclusive link.