Lodging Engineer is an electronic magazine published quarterly for hotel engineers.
You may subscribe to our publication and we will provide you a free copy of our latest edition. We also have several back issues posted through-out the site, so feel free to explore a little.
Go to www.nahle.org to subscribe.  Nahle will notify you by email of upcoming issues. We will not share or sell your email address.
Nahle is in the process of extracting each article and all advertisements and placing them in our searchable Resource Library. This feature is open to the public.
Members can read back issues and print pdf copies for their staff or just to take with you. As part of our efforts to contribute to sustainability and a greener planet we leave the choice of digital vs. paper to you.
Spring 2018 Available Now!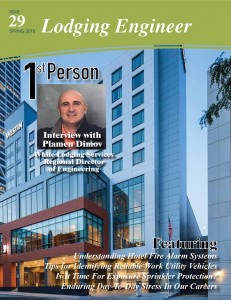 Issue #29 – click the cover to read it!