NAHLE Offers A Certified Chief Engineer (CCE) Training 
for Select Service Properties!
The CCE program has been developed with the input of several hotel management companies and industry professionals to provide a curriculum exclusively for hotel engineers and maintenance professionals of Select Service Properties. All candidates are provided a complimentary (free) one year membership to NAHLE.
For more information on certificate programs and their impact to your career, See Georgetown University's study (click here).

Description: The Certified Chief Engineer (CCE) program is a self-paced professional development program for hotel engineers and maintenance professionals. The CCE study guide has been developed by the National Association of Hotel & Lodging Engineers in conjunction with numerous hospitality industry experts contributing as authors. NAHLE partners with the American Hotel & Lodging Educational Institute (EI) to bring you this program.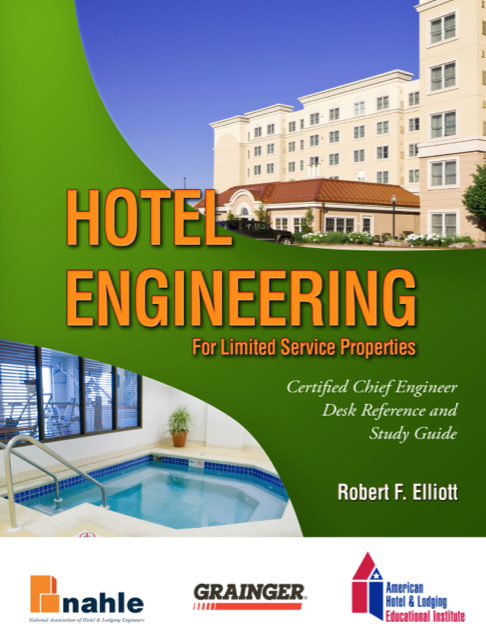 The CCE program requires the candidate to:
1) Study the provided course content,
2) Complete the on-line Sectional tests, and
3) Track study time (Optional).
The program's study guide, "Hotel Engineering for Select Service Properties," is a bound paperback book comprised of 19 chapters and 265 pages. Your study guide is mailed directly to your property as listed in your online application.
Online Course Curriculum:
1) Tutorial (optional)
2) Online Study Guide (optional)
3) Practice Exams for each chapter (optional)
4) Sectional Exams (required)
The study guide is further divided in three sections with the following chapters:
Section 1) Management 
.    Introduction To Hotels
.    Prioritize Tasks & Time Management
.    Project Management
.    Environmental Health & Safety
.    Emergency Response Planning
      Maintenance of the Hotel                                       -        TEST SECTION 1
2) Building Systems
.    Plumbing Systems
.    Electrical Systems
.    Lighting Systems
.    Heating, Ventilation, Air Conditioning and Refrigeration
.    Fire and Life Safety Systems – Mag-Card Locks
.    Packaged Terminal Air Conditioning (PTAC) Units
.    Vertical Transport Systems                                    -        TEST SECTION 2
3) Building Envelope & Grounds
.    Building Design & Construction – Low-Rise Wood Construction
.    Through-Wall Penetrations
.    Swimming Pools and Spas – Saline / Dehumidification
.    Integrated Pest Management
.    Outdoor Parking Facilities
.    Mold & Mildew                                                           -        TEST SECTION 3
The CCE certificate program designation is achieved by successfully completing 3 sectional tests administered on-line by Litmos. Each sectional test is comprised of numerous multiple-choice test questions drawn from the Section's individual chapters. A minimum passing score of 70% per exam is necessary to successfully complete the program. Applicants may take each Sectional exam until they successfully reach a passing score. All exams are open-book, meaning that candidates may refer to their study guide during their exam.
Upon successful completion of the three (3) required exams, candidates may download their certificate of completion as a pdf file. All certificates are designed to print on most standard color printers using 8-1/2 x 11 inch paper. Your certificate designates the candidate has successfully completed the requirements to become a Certified Chief Engineer.
Very truly yours,
Robert Elliott
President
National Association of Hotel & Lodging Engineers
P.O. Box 30844
Alexandria, VA 22310
www.nahle.org
703-922-7105
Certified Chief Engineer (CCE) Training: NAHLE has completed a second study-guide, tutorial, practice exams and online exams for limited service property engineers and the No. 2 at resorts and full service properties. This course is a little less demanding, but both books include information related to the planning and organizing of tasks, overviews of hotel engineering systems, and the financial and ethical skills required to operate effectively within a hotel organization. The limited service property book spends less time on management principles and has chapters that focus on low-rise wood frame building construction with an additional discussion of PTAC units with a detailed look at moisture infiltration. Both of NAHLE's professional curriculums are intended to be comprehensive and cover all hotel building engineering subjects including: HVAC, plumbing, electrical, lighting, landscaping, swimming pools and vertical transport to name a few.