Become a NAHLE Certified Director of Engineering (CDOE)
The CDOE program has been developed with the input of several hotel management companies and industry professionals to provide a curriculum exclusively for hotel engineers and maintenance professionals of Full Service Properties. All candidates are provided a complimentary (free) one year membership to NAHLE.
(Click Here) to Make a Secure Online Credit Card Payment and Begin Your Training To Become a Certified Director Of Engineering (CDOE)
Overview:
The CDOE program has been developed with the assistance of hotel management companies and industry professionals to provide professional development and training for hotel engineers and maintenance professionals for Full-Service Hotel Properties. Our training program consists of a 31-chapter study guide curriculum and two (2) online exams. Program candidates are provided multiple chances to pass two (2) open-book online exam administered by our distribution partner, Litmos. Course may be purchased through NAHLE or the American Hotel & Lodging Educational Institute (AHLEI). Upon receipt of your payment, you will receive an email confirming your secure online purchase. Our CDOE study guide is mailed directly to the address you list in your online registration form. If you are working with a hotel management company that is partnering with NAHLE and participating in a company roll-out, please apply your "Discount Code."
Upon completion of your online registration application, a subsequent Login email is sent to the applicant's email address as found in your registration application. Both a program tutorial and your online exams are made available to each candidate upon responding to the subsequent Login-Registration email that is sent to begin each candidate's training. Upon successful completion of both required exams, which requires a 70% pass rate, you may download your Certificate of Completion. Your certificate is provided as a 'pdf' file and prints in color on most standard printers using 8-1/2 x 11 paper.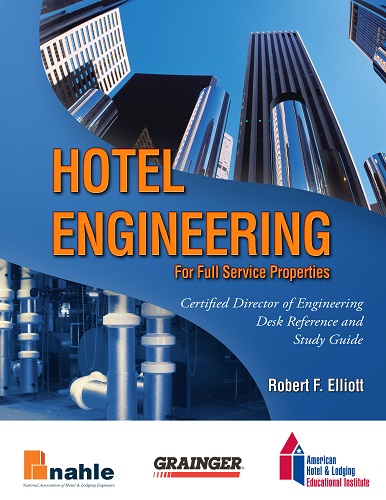 This 31-chapter study guide provides preparation for the Certified Director of Engineering (CDOE) professional designation offered by the National Association of Hotel & Lodging Engineers (NAHLE) specifically for hotel engineers.
TABLE OF CONTENTS
CERTIFIED DIRECTOR OF ENGINEERING - STUDY GUIDE
COURSE OVERVIEW

INTRODUCTION PAGE

PRIORITIZE TASKS

PROJECT MANAGEMENT

REPORT WRITING

RECORD KEEPING

BUDGETING

CONTRACTING SERVICES

BUSINESS ETHICS

PROPERTY ACQUISITIONS AND DISPOSITIONS

BUILDING DESIGN & CONSTRUCTION

RISK MANAGEMENT

ENVIRONMENTAL HEALTH & SAFETY

EMERGENCY RESPONSE

BUSINESS CONTINUITY PLANNING

BUILDING COMMISSIONING

MAINTENANCE OF THE PROPERTY

ELECTRICAL SYSTEMS

LIGHTING SYSTEMS

ENERGY MANAGEMENT

BUILDING MANAGEMENT SYSTEMS

FIRE LIFE SAFETY SYSTEMS

SECURITY SYSTEMS

PLUMBING SYSTEMS

HVAC

VERTICAL TRANSPORTATION

PARKING LOTS & STRUCTURES

SWIMMING POOLS & SPAS

WASTE MANAGEMENT

INTEGRATED PEST MANAGEMENT

MOLD & MILDEW
Our online tests are provided by our distribution partner, Litmos.
Certified Chief Engineer (CCE) Training: NAHLE has completed a second study-guide, tutorial, practice exams and online exams for limited service property engineers and the No. 2 at resorts and full service properties. This course is a little less demanding, but both books include information related to the planning and organizing of tasks, overviews of hotel engineering systems, and the financial and ethical skills required to operate effectively within a hotel organization. The limited service property book spends less time on management principles and has chapters that focus on low-rise wood frame building construction with an additional discussion of PTAC units with a detailed look at moisture infiltration. Both of NAHLE's professional curriculums are intended to be comprehensive and cover all hotel building engineering subjects including: HVAC, plumbing, electrical, lighting, landscaping, swimming pools and vertical transport to name a few.