FREQUENTLY ASKED QUESTIONS
1) You may take your exams by clicking on the following link:
Please contact NAHLE directly at (703) 922-7105 with any questions!
The Certified Chief Engineer, Certified Director of Engineering and the Certified Director of Maintenance (assisted living facilities)  
are online and self paced training programs 
brought to you by:
National Association of Hotel & Lodging Engineers 
 Purchase Registration and Study Guide:
Purchase:
You may purchase any one of our three training programs via Nahle's payment processing using either Paypal (via our website) or buy calling Nahle (703-922-7105). We accept most credit cards using either PayPal or Stripe. You may also request an invoice and pay by check.
Registration:
You should receive your 'Registration email' within two (2) or three (3) business days including weekends from your date of purchase.
Study Guide:
Study guides are mailed to any address you want. They usually arrive via USPS Priority Mailing within 10 business days, International addresses may take longer.
HERE ARE SOME OF THE REQUIREMENTS YOU'LL NEED TO GET YOU STARTED
:
COMPUTER with up-to-date Internet browser
REGISTRATION: received by email
Login URL address (see above)
User ID: (your email address)
Password: created by you during completing your registration email)
STUDY GUIDE (online version is provided for all programs)
EXAMS (need to complete them in sequential order; 1- Management, 2 – Building Systems, and 3 – Building Facade and Property Grounds
CERTIFICATE of Completion: (available in "Achievements" upon successfully completing your 3rd Exam
How do I get started?
First thing to do is get registered.
If Your Hotel Management Company Does Not Require You To Track Hours of Study While On The Job,
THEN YOU CAN TAKE YOUR EXAMS AS SOON AS YOU ARE READY and BYPASS NAHLE's Registration and/or Posting Hours of Study:
If your hotel management company is not requiring you to track hours of study, you may use your Username and Password mailed to your property with your study guide and go directly to our website at: https://testing.ahlei.org/perception5/ to take your exams.
NAHLE supplies your management company a copy of your Username and Password. We also provide all CCE candidates the opportunity to register as new member of NAHLE at no additional cost. This membership is good for one year from the date of your registration.  Ask you management company for your discount code.
If Your Hotel Management Company Requires You To Track Your Hours of Study While On The Job, Then The Following Applies:
1) If your hotel management company is requiring you to track your hours of study while on the job, then most likely you need to participate in a conference call to register as a candidate of the CCE training program. Typically companies with larger groups of candidates will use this process to register their engineers as new members of NAHLE capable of both taking exams and posting study hours. During the call, each candidate's proper name, Username and Password will be checked for accuracy and functioning login for your exams. Among other items discussed, a demonstration of how to post individual candidate's hours on NAHLE's website and how to navigate the exam website is provided. 
During the orientation call a 'discount code' will be provided for hotel management companies and REITs rollout of multiple properties eliminating the need for electronic payment of candidate's registration fee.
Use the single set of Username and Password you created that was emailed to you. Study guides are available online and mailed to candidate.
Your registration provides you a one-year complimentary NAHLE membership.
2) Under differing requirements, such as registering a group of multiple engineer candidates, NAHLE may elect to register for you or the entire group. We use the same Username and Password mailed to you with your study guide to register each candidate. NAHLE also supplies your management company a copy of your Username and Password should misplace this or forget it.
If Your Hotel Management Company Requires You To Pay For Training, Then The Following May Apply:
1) You may register yourself online or your management company may have you register as part of their training program. See the National Association of Hotel & Lodging Engineers' (NAHLE) website page: REGISTER ONLINE page for electronic registration. 
Use the discount code provided to your GM or property if you are part of management company's portfolio training. Chances are as part of a group, a reduced registration fee has been negotiated on your behalf. 
How  do you register?
Go to http://nahle.org/membership-account/. Fill in your discount code if you have been provided one and click on the button that says "Apply." This removes the credit card portion of the form as your program has been paid for you by your hotel management company.
If you are paying for this yourself there is discount code. Discounts are for companies training a minimum of 10 candidates. Your cost for either the Certified Director of Engineering, Certified Director of Maintenance, or the Certified Chief Engineer is $685.00. 
Do I get a receipt?
If your hotel management company made payment for your property's candidate, then a group receipt is provided your management company. See your management company for internal costing.
If you made an electronic payment for your registration, NAHLE will send an electronic receipt at the email address you provide during registration. A confirmation email activating your membership with NAHLE will also be provided. This confirmation email may be combined with your receipt. This email also contains your Username and Password. 
When will I receive my study guide?
Your Study Guide will be mailed to you within 7 days of registration You should receive your study guide within 10 days of the date your registration.
What are the steps to becoming a CCE?
1. Register for the CCE training program. Either go online (http://nahle.org/membership-account/membership-checkout/?level=3) and register for the CCE program or NAHLE will work with your Management Company and register for you. Larger groups of candidates may be registered during a conference call unless they opt out of their NAHLE membership or posting hours of study.
2. Once you register, NAHLE will process your registration and mail a study guide to the address that is provided in your registration.

3. Depending on the candidate's registration, the property's GM or Engineer Candidate will may be emailed any combination of the following information:

a. An attached file titled, CCE Overview and Online Instructions,
b. Your Login ID and Password for taking your Sectional Exams and/or posting hours of study, and 
c. The program's website address (URL) for taking your exams.

4. Begin reading your study guide and preparing for the three Sectional Exams. You must pass all three (3) online exams within a minimum combined chapter score of 70% correct to complete your training.

5. To post your study hours, go to NAHLE's website at (www.nahle.org) and login using the Username and Password that you or your GM were provided or mailed when you received your study guide. Post hours of study while on the job.

6. Once you have successfully completed all three your exams, you will receive your Certificate of Completion within 14 days.
Why are there two websites?
The National Association of Hotel & Lodging Engineers partners with Limos. We use Litmos, a publicly traded company of the NY Stock Exchange, as our Learning Management System. Litmos handles all of our online program materials and testing.  which handles our online programs.  to bring the hospitality industry this program. The National Association of Hotel & Lodging Engineers (NAHLE)  in cooperation with the American Hotel & Lodging Educational Institute (EI), Apple R.E.I.T. (a publicly traded real-estate investment trust), and various industry authors are responsible for developing the program's educational curriculum. NAHLE administers the program and the online tracking of a candidate's study time.
I'm having trouble logging in.
Most likely you are typing the wrong User ID and Password. We use two separate websites to administer the Certified Chief Engineer program, but you are assigned a single Username and Password that provides login access to both websites. Check and make sure you are using the correct Login access to the website. It is easy to mixup up the number zero with the letter o or the lower case letter l with an uppercase I. 
Some hotels have very old browsers or firewalls that could hinder your access.
Which website do I use to take the exam?
You make link to your member's home page to link directly to the exam's website. Or, you may  type in computer's browser the exam website address at: https://testing.ahlei.org/perception5/.
Who can I call if I can't login?
For questions regarding the exam, the exam website or other technical questions, you may call NAHLE from 9 to 5 pm EST at Phone: 703-922-7105.
Where do I go to enter my study time?
Use your candidate's assigned Username and Password to login to NAHLE's website. From you member's page on NAHLE's website (www.nahle.org) click on the Orange Button to post your own personal hours spent studying and taking the exams while working on the job.
Do I track and log short durations of study time such as 10 or 20 minutes? What if I got interrupted and had to stop studying after only a few minutes.
You should try and account for all time spent studying while on the job. You can enter time in increments of as little as 15 minutes. You should get in a habit of rounding up or down to the next 15 minutes.
Do I have to enter my study hours?
Yes, if the owner of your hotel property requires you to enter time and chapter per day spent studying. NAHLE/AHLEI does not require the candidate to track their hours of study and it is not a requirement to become certified.
How long does it take to study for the whole program, three (3) exams?
Based upon previous candidates we have found it typically takes around 20-24 hours. It is expected to be completed in less than 40 hours. The average is about one (1) hour per chapter with a few chapters getting a little more time.
Where can I read more about the program?
NAHLE website provides additional information about our program(s).
Course Summary: NAHLE provides an Online summary of both our certificate programs, CCE, CDOM, and CDOE, on our website.  
Program Overview: NAHLE provides a written program overview summarizing our certificate program. This can be obtained by calling NAHLE at 703-922-7105. 
Instruction: We also provide detailed 'Online Instructions' with screen-grabs (pictures) showing you what your screen should look like to candidates once they have logged-on. Go to www.nahle.org and log-on.
How do I take the exam(s)?
It is a computer based exam. The exams are conducted over the Internet, are open book (meaning you can refer to the study guide during the test), and are timed to last 90 minutes.
Go to: https://testing.ahlei.org/perception5/
Enter your: User-ID and Password
How do I get my Password & ID for taking the exam?
You will be sent an email to the address you listed when you registered online at www.nahle.org. This should be the company email address for your GM or your own email address. You can also supply your own personal email address.
I can't log-in to take the exam?
1) Make sure you are on the correct website. Your User ID is your email address, if you registered and payed online with a credit card or buy phone. Otherwise your your User ID will issued by your employer. begin with three (3) uppercase letters representing the name of your management company followed by several random numbers. Make sure you are on the right website; https://nahleorg.litmos.com/account/Login. 
I can't log in to enter study time?
First, check the Username and Passsword you are using. There are two websites that you have to work with, one for logging study time and the other for taking an exam. Make sure you are using the correct login information. The URL for logging-in is www.nahle.org. Click on the orange "LogIn" Button in the upper right hand corner of your screen. Once you are logged in click on the large Orange button titled, "Log Hours Now." 
I am on the site and can't find where to enter study time?
See the Overview Instructions on NAHLE's website at www.nahle.org. Once again, click on the orange button that says "Log Hours Now." 
How much does the CCE program cost?
$685.00
Hotel management companies may have negotiated a group 'discount rate' that could include your property. Feel free to ask.
Are they any pre-qualifications or experience requirements to sit the exam?
This program tests the candidate's knowledge and understanding of hotel engineering and maintenance as presented in the study guide. The employer needs to check/verify a candidate's hotel work experience and references.
How do you take the exam?
You should pick an area or room where you will not be disturbed and can close the door. You may take the exam by yourself without supervision or a proctor. You may use the study guide to assist you during the test.
What is the website address for exam?
https://nahleorg.litmos.com/account/Login
What is the website address for logging in studying time?
Where can I find a set of detailed instructions?
How long is the exam?
1-1/2 hours (90 minutes).
What does an open book exam mean?
You may bring the study guide with you and use it to find answers during the exam.
How many questions are on the exam(s)?
On an average each chapter gets five to nine questions.
Does the login recognize upper and lower case letters?
Yes. 
During what hours of the day can I take the exam?
All day and all night, 24/7 – 365 days a year. 
Can I log in hours anytime during the day?
Yes, you can use the website at anytime 24/7/365.
Are the exams multiple choice or essay?
The exams are multiple choice with a few True/False questions. 
Are there additional instructions available to candidates?
Yes, all candidates are provided a complimentary one-year membership to the National Association of Hotel and Lodging Engineers. In our 'Members Only' section you will find more detailed instructions.
Which program is more popular?
Our Certified Chief Engineer (CCE) program  for Select-Service properties is the most popular program among hotel engineers.
Certified Chief Engineer – Also available in

Spanish

!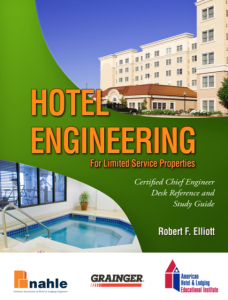 Where Can I learn About all three of Nahle's programs?
Go to Nahle's website and select Education and Training at: http://nahle.org/select-online-training/  
Who administers the exams?
Nahle' Learning Management System partner, LITMOS.
And, if I still have a question who do I contact?
Technical support is provided by NAHLE. Calls are always accepted during normal business hours Monday through Friday EST.
Questions may be emailed or called in during non-business hours before 8 pm EST at:
Email to: robert.elliott@nahle.org  
Phone: 703-922-7105
Good Luck and Welcome to the National Association of Hotel & Lodging Engineers!
***