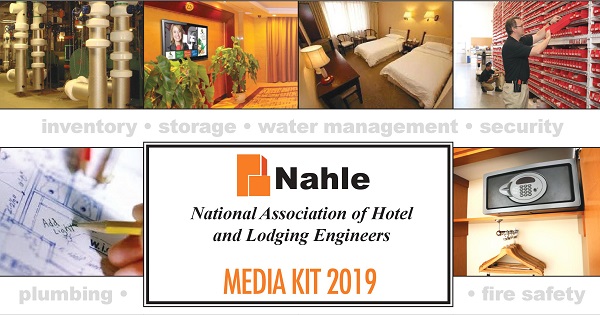 Put the Purchasing Power of NAHLE 's Hotel Engineering Community to work for you.
Find full details here for NAHLE's exclusive media options:
NAHLE creates national exposure for your products and services by reaching:• Hotel & Resort Engineers
• Maintenance Professionals
• General Managers
• Corporate Engineering Directors
• Corporate Renovation Planners (CapEx Managers)
• Hotel Management Companies
• REITs
These are the persons who make the decisions on how and where capital dollars and operating budget dollars will be spent in today's $157 Billion U.S. hotel industry. NAHLE's marketing programs and publications are designed to promote your products and services directly to the desks of these difficult to reach hotel engineers and hotel management executives.
Over 8 Million Hits, and a Quarter Million "Unique Visitors"
NAHLE AVERAGES ONE NEW 'UNIQUE VISITOR' EVERY 17 MINUTES 365 DAYS A YEAR!
THIS EQUATES TO 3.8 MILLION PAGES OF INFORMATION SOUGHT
---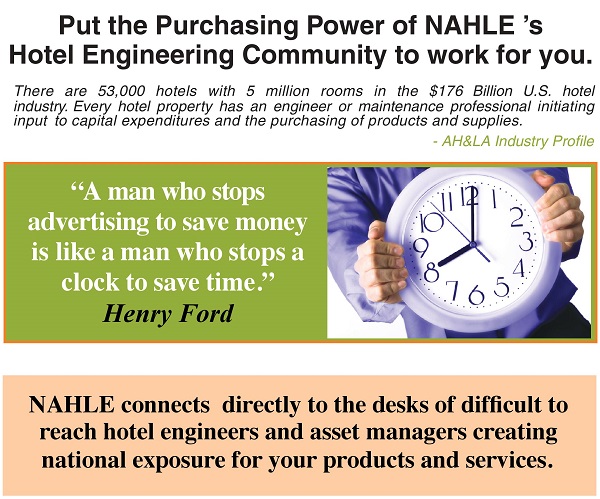 Products and Services:
LODGING ENGINEER is NAHLE's official trade magazine.
WEBSITE www.NAHLE.org is a portal to connect hotels and hotel engineers to resources for improving the performance of their properties.
ePRODUCT NEWS BLAST provides suppliers with a powerful tool to promote products and services directly to difficult to reach hotel engineers and hotel management.
WEBINARS This interactive demonstration and presentation program delivers meaningful information to hotel engineers and corporate hotel executives in a direct and interactive format.
EDUCATION and CERTIFICATION PROGRAMS:
CERTIFIED DIRECTOR OF ENGINEERING (CDOE) – For FULL SERVICE PROPERTIES
This 31 chapter Study Guide provides preparation for the Certified Director of Engineering (CDOE) professional designation offered by NAHLE for hotel engineers.
CERTIFIED CHIEF ENGINEER (CCE) – For LIMITED SERVICE PROPERTIES
Developed specifically for hotel engineers and mangers at limited service properties.